Torah4U

Download - version 2.11

download page
Stay tuned for new great versions! Don't forget to upgrade from previous versions. See Tips below.

Program features:
super fast multiple word/expression equidistant search in Hebrew Bible text
English-Hebrew dictionary
synchronized parallel full Hebrew Bible text with English / Russian translation display (see sample)
see, type and print Hebrew on any non Hebrew Windows - from 3.11 up to XP
great colored graphics presentation/print
organizing of search results to groups (slides), data storage in universal Access 2 MDB format (using simple ODBC)
free results exchange by export/import
English interface on non Hebrew Windows, Hebrew interface on Hebrew Windows

Notes: The program is FREEWARE!
Author: Arikh Anpin, Israel, US (nickname, actually)

Reference to this program at any discussion concerning results achieved by it, would be highly appreciated.
Sponsors ARE WELCOME.
For troubleshooting see corresponding section at Torah4u.hlp
Please send your notes, commentes and interesting results (using this program export format) to:


anpin@mindspring.com

Sample:
Rabin assassination (mentioned at Drosnin's Bible Codes)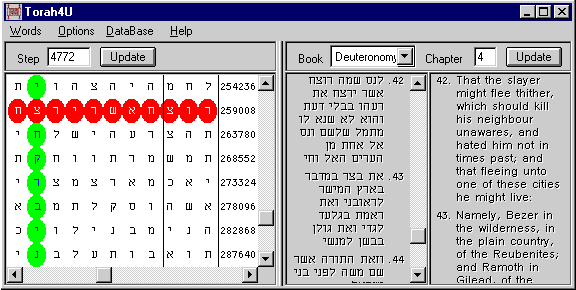 Tips:

To add a word from the Hebrew text to search field just right-click it and select 'Add word to search' item in popup menu that should be open. So you don't need to type in Hebrew anymore!
To change a font properties (size, weight etc.) you can edit corresponding group in TORAH4U.INI file in the program directory. For example, to change a font size just increase the value in 'Size=' field. The groups:

[English Translation Font] for English translation
[Russian Translation Font] for Russian translation
[Bidi Text Font] for Hebrew in the Hebrew text and text matrix

To define search block boundaries use right mouse click above the text matrix, Hebrew text or translation windows
To save search results to database in 'Search' dialog first SELECT them and press 'To DB' button. To see them again in the listbox, type in the word in the 'Word' field and press 'From DB'
Use double-click in text matrix, Hebrew text and translation windows to synchronize them
Double-click words in search results/slide lists to see them immediately highlighted in the text matrix
To type in Hebrew in 'Search' dialog press 'Keyboard' button and use a mouse for typing
If you don't use Russian translation delete files RTEXT.DAT and RINDEX.DAT to save space
If you don't use English translation delete files ETEXT.DAT and EINDEX.DAT to save space
The current version can use a default printer only. If you want to use another one - just set it as a default! (In Win95: Start - Settings - Printers - (select needed printer) - File - Set As Default)

Example List: rabin.txt - Rabin assassination
Usage:
Download file from the list to your computer (right click list item and select "Save Target As...")
In program open 'Search' dialog, go to 'Slide' tab, save current slide if you need it, press 'Import...' button and select downloaded text file
Add to list:

To get more info about similar programs go to BIBLE CODE SOFTWARE COMPARISONS